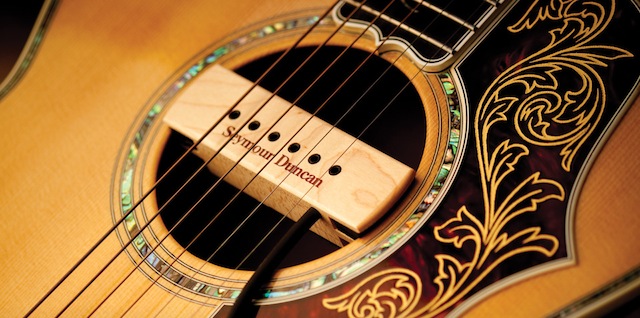 Are you looking for the best acoustic guitar pickup? Great! Because this article is designed just for you. My name is Glen I have been in the music industry for years which has given me the opportunity to test a lot of different acoustic guitar pickups throughout the years.
In this article, I have listed all my favorite acoustic guitar pickups and written a short summary of why I like or dislike that certain product, I have spent countless hours in research, thinking and writing in order to put this article tother for you so I hope you find it helpful and will help you in the path to purchasing an acoustic guitar pickup that suits you and yours needs.
When searching for an acoustic pickup it can get quite overwhelming its a lot of different brands and different styles as I said I will list my favorites down below, but on the bottom of this page, I will include some extra information on how to choose an acoustic guitar pickup as well, so without further ado lets start with the list!
9 Best Guitar Pickup Reviewed And Rated
1. L.R. Baggs ANTHEM – Best Overall
Choosing the pickup that deserves the first spot was an easy choice for me because there is one acoustic guitar pickup that is my go-to for all my important gigs and that is the L.R Baggs. The reason I like it that much is because of the remarkable sound it provides and its unique design. The L.R Baggs has totally flipped the traditional hybrid setup on the head and given all the sound power to the noise-canceling microphone which provides a lot clearer sound and with exceptional dynamics.
If you are looking for the best acoustic guitar pickup then this is the one for you! it´s not for the one looking for an average, cheap or uncommon pickup that I will cover later, but if you want the best one on the market then this is the pickup I would to you. As I stated before I have been in the music industry for years and I can honestly say that this is the best pickup I have ever tried.
When you purchase the L.R Baggs on amazon you will get controls such as; volume, phase switch, and mix control.
---
2. Fishman Rare Earth Humbucking Pickup
Since my favorite acoustic pickup, the L.R Baggs Anthem is quite expensive I wanted to give you a cheaper option since I know not all are interested in splashing money around for a pickup. The Fishman Rare Earth is the perfect balance between premium sound and affordability.
The Fishman pickup sits over the soundhole its not as subtle as most pickups, but I really dont mind, when it performs at the level it does for this low of a price tag. Its equipped with Fishman's magnets which provides an excellent natural and premium sound that is perfect for both strumming and fingerpicking styles. You could purchase a single-coil pickup that could provide you with similar features, but the Fishman removes the 60-cycle hum which can be frustrating.
---
3. Fishman Matrix Infinity
This is a highly rated undersaddle piezo that is made by the pickup masters Fishman. They have made pickups for years and that is easy to see and hear through this pickup. It gives your acoustic guitar a nice clear, rich and natural tone. I really do enjoy playing with one and the price isn't that bad either, especially for the quality you get.
The Fishman Matrix is one of the most popular pickups on the market today and that is for a good reason. What I really enjoyed about this pickup is the ease of use and the quality of the sound. The dynamics are on point, has a warm tone and minimal quack sounds.
This pickup is equipped with a soundhole-mounted rotary control which makes it easy to adjust and tweak the pickup to your liking.
I have found this pickup to be a very versatile one. You can use it for finger plucking, lead playing and strumming.
---
4. Seymour Duncan Woody HC
Seymour Duncan is a wooden miracle. It`s definitly the pickup that gives you most for the money. Seymour has proven their knowledge when it comes to aggressive humbuckers, but when they released this pickup I was a bit skeptical since its not their main playing field. After trying it once I was pleasantly surprised and all my assumptions were proven wrong.
I enjoy both the sound and the design of Seymour Duncan, it comes in a variety of different wood types, but my favorite is the maple. The pickup is a passive magnetic pickup which means you can just put it in the soundhole without any modifications or adjustments.
It's easy to use and the sound is warm and comfortable. I would describe the sound while using the Seymour as warm, thick and natural.
I have owned moth the Duncan and single coin version, but I must say I am a bigger fan of the hum-canceling version since it proved a bit thicker sound and cancels out the excess voice such as the feedback and humming.
The Seymour Duncan works for all playing styles and Seymour has proven the market that they can deliver high-quality pickups at an affordable price.
---
5. Fishman Neo-Buster
The Fishman Neo-buster is a pickup that covers the whole soundhole, it's not that subtle so I understand if you dont like the design. But I really think that the performance and the sound you get from the Fisman Neo-buster weighs up for the design.
The Fishman Neo-Buster offers everything you would need in a good pickup. The sound is rich, clear, warm and fits well for both production and live shows.
While using the Fishman Neo-buster you will experience very little to zero feedback still if you amp up the volume. It's easy to install and you dont need to micro-adjust to get it to your liking. Just slab it over the soundhole and start playing.
Before you decide to purchase the Fishman you should check if it will fit your soundhole.
---
6. K&K Pure Mini Acoustic Guitar Pickup
If you are looking for a simple, but yet powerful pickup then there is no better product for you then the K&K mini pickup. Its super simple to use, but still, the sound is extremely good.
The K&K mini pickup has won several awards in the pickup scene and I am not surprised. The combination of the simple design and the sound quality is a combination you rarely find.
This is no the cheapest pickup on the list, but the sound quality you get from this pickup is worth far more than what you pay. The sound is clear and warm sound with a big warm output.
The sound is also an excellent replication of the natural sound you have in your guitar.
The negative aspect of the KK mini pickup is that its quite hard to install when I bought mine I had the guy at the store do it for me since I was recommended to do so by a friend. If you purchase this pickup I can assure you that you get a lot for your money and I am pretty sure you will be happy with your purchase as well.
---
7.
DiMarzio DP138
This pickup is a passive acoustic guitar pickup which means you dont need to adjust or modify the pickup to make it work flawlessly. The only thing you need to do is to attach the pickup to your soundhole and use the controller to adjust the volume and adjust the polepieces to your liking.
With the pickup, you get a 12-foot cable and a volume controller that minimizes the tone loss when you lower the volume.
What I really like about this pickup is the 12 adjustable polepieces. You can use these to adjust the pickup to your liking and your playing style. So let's say you are finger plucking, then maybe you would raise the polepieces above the bass strings to make the sound more audible.
It's a versatile pickup that really gives you the power to adjust the sound to your liking. The quality of both the sound and material is superb and it's very easy to use and install.
I would say the Dimarzio is one of the best pickups on the market today at least when we are talking about passive acoustic guitar pickups.
---
What To Look For In A Good Acoustic Guitar Pickup
So there you go! There are my 7 favorite acoustic guitar pickups at this point and time. Now, let's take a look at whats makes a good guitar pickup and a few pointers you should look for when you choose a guitar pickup.
But first let's take a look at the different types of guitar pickups that are available on the market today. Spoiler
Soundboard Transducers
The most popular pickup type is the soundboard transducers. These are very easy to install and use. As you can see on the photo the pickup is attached to the face of the guitar where the pickup takes up the vibrations through the top.
The soundboard transducers are one of the simplest and cheapest pickups you can find on the market today, but they usually provide the lowest sound quality as well. But if you are not performing on big shows or shows than this type of pickup can be a good choice for you since they are cheap and usually provides enough power and quality for smaller shows and performances.
However, if you mainly finger pluck then you should take a look a the undersaddle pickups.
Undersaddle Pickups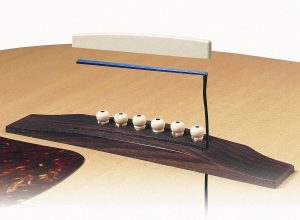 The undersaddle is a common type amongst acoustic guitar players. The undersaddle is installed underneath the bridge saddle where it takes in the vibration from each individual string which is why is such a great pickup for fingerstyle playing.
This type of pickup is hidden and is usually opposite to the soundboard transducers. Since the undersaddle pickup is installed closer to the strings you have a more aggressive and present sound from the pickup. The only con of the undersaddle pickup is that they tend to produce bright and a bit (quacky) sound at times.
An example of a good undersaddle pickup is the Fishman Matrix which you can find in our article above.
Soundhole Pickups
This is my favorite type of pickup! Why? Because they are easy to install, easy to use and produces a great sound. The soundhole pickups are installed in the soundhole under the strings. There are a variety of types within the soundhole category, some cover the whole soundhole and some are like the L.G Braggs which can be attached to the edge of the soundhole.
The pros of having the pickup installed under the guitar strings are that you get a very clear and warm sound. Cheaper pickups do tend do produce feedback and artificial sound. If you are looking to get a soundhole pickup I recommend you invest a few extra bucks in order to get a higher quality product that prevents the feedback and gives you a natural sound.
Internal Microphone Pickup
If I am looking to get the best quality sound possible then an internal microphone is my first choice. An internal microphone setup is hard to install, but you can't get any other type of pickup that gives you the sound quality as internal microphones. They are mounted inside your guitar where they capture sound from a broader area of your guitar thus providing a more natural sound.
Internal microphones are prone to feedback, but if you adjust them correctly you should be fine. If you are looking to get an internal microphone setup I recommend you hand the installation over to a professional this way you can get the optimal sound and you dont have to trouble yourself with hours of frustration and reading.
Its hard for me to explain every detail on this pickup so check out this video if you want a closer look at how this pickup type works.
Does The Pickup Have A Preamp
Some pickups are preinstalled with a preamp, with a preamp installed you have the option to adjust and shape the sound directly from the guitar.
There is a variety of different preamps on the market ranging from very basic volume adjustments to more advanced preamps with EQ sliders and blend controls.
The simpler setups are usually installed within the soundhole, but if you get an advanced system with EQ sliders a such it usually needs to be installed on the side of the guitar.
Not all guitar pickups come with a preamp, but it is not a problem! If you really want one you can buy one separately and install it yourself. But if you know you want a preamp with your pickup then there is plenty of options for you on the market as well.
information about preamps
If you are investing a lot in a good pickup you need to invest in a good preamp as well. The preamp is the final touch and there is no reason to frugal with the preamp since it can determine how the overall sound quality will be. I am saying you have to empty your wallet, but if you have to wait a month or two to get a better amp then you initially wanted, then it's worth the wait!
Conclusion
I hope you found this article helpful! I have spent a few hours of research and writing in order to put this list together for you so I hope you have a good time and found the pickup that suited your needs and budget. If you still haven't decided on what pickup to choose then I recommend you check through the list one more time then maybe go to another article to see what you find there.
I truly believe that none of the pickups on this list is worth the cost, the only question is your budget and what type you need for your guitar. I have tested most of them myself and then once I haven't I have been recommended by musicians I highly respect and trust.
Thanks for reading and have an awesome day!
[simple-author-box]